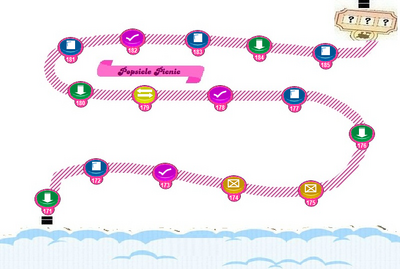 Popsicle Picnic is the thirteenth episode in Maalit72's Candy Crush Saga ROBT.
The champion title of this episode is currently unknown.
Story
Before Episode
Carmel finds an ant that the bread she is carrying is too heavy for her. The ant says to Carmel: " I need help! The bread is too heavy".
After Episode
Carmel splits the piece of bread to 2 tiny pieces. Carmel says to the ant: "Now you can carrying the first half easier and then drag the second half". Then, the sant says to Carmel: "Thanks!".
New Things
Level 171: Four layered Icing
Levels
Easiest Level: Level 184
Hardest Level: Level 182
| Levels | Level Type | Level Difficulty |
| --- | --- | --- |
| Level 171 | | Easy |
| Level 172 | | Considerably Hard |
| Level 173 | | Medium |
| Level 174 | | Considerably Hard |
| Level 175 | | Easy |
| Level 176 | | Considerably Hard |
| Level 177 | | Easy |
| Level 178 | | Considerably Easy |
| Level 179 | | Considerably Hard |
| Level 180 | | Hard |
| Level 181 | | Considerably Easy |
| Level 182 | | Hard |
| Level 183 | | Hard |
| Level 184 | | Easy |
| Level 185 | | Easy |