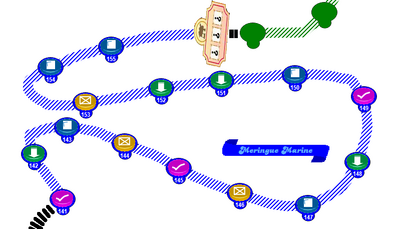 Meringue Marine is the eleventh episode in Maalit72's Candy Crush Saga ROBT.
The champion title of this episode is currently unknown.
Story
Before Episode
Carmel finds an octopus that stuck on a boat. Carmel says to the octopus: "You need help?". The octopus says to Carmel: "I want go back to the sea but I'm stuck on this boat".
After Episode
Carmel uses a giant lollipop to cross the water to the boat and then Carmel pulls the octopus to the water. Then the octopus says to Carmel: "Thank you!".
New Things
Level 141: Three layered Icing
Levels
Easiest Level: Level 148
Hardest Level: Level 145
| Levels | Level Type | Level Difficulty |
| --- | --- | --- |
| Level 141 | | Easy |
| Level 142 | | Medium |
| Level 143 | | Considerably Easy |
| Level 144 | | Considerably Hard |
| Level 145 | | Hard |
| Level 146 | | Easy |
| Level 147 | | Hard |
| Level 148 | | Easy |
| Level 149 | | Considerably Easy |
| Level 150 | | Considerably Hard |
| Level 151 | | Hard |
| Level 152 | | Medium |
| Level 153 | | Hard |
| Level 154 | | Easy |
| Level 155 | | Considerably Easy |