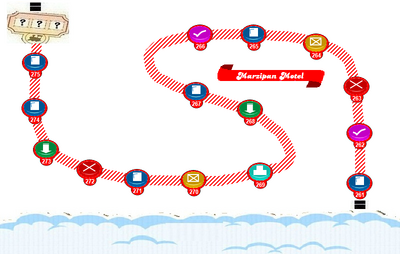 Marzipan Motel is the nineteenth episode in Maalit72's Candy Crush Saga ROBT.
The champion title of this episode is currently unknown.
Story
Before Episode
Carmel finds an angry guest that the TV on his room doesn't work. Carmel says to the guest: "What happened?". The guest says: "There is no signal on the TV on my room". Then, Carmel says to the guest: "I will try to fix that".
After Episode
Carmel installs a liquorice antenna on the TV and then there is a signal on the TV. Then, the guest is happy and he says to Carmel: "Thanks!".
New Things
Level 261: Bomb Dispensors.
Levels
Easiest Level: Level 262
Hardest Level: Level 275
| Levels | Level Type | Level Difficulty |
| --- | --- | --- |
| Level 261 | | Considerably Easy |
| Level 262 | | Easy |
| Level 263 | | Hard |
| Level 264 | | Medium |
| Level 265 | | Hard |
| Level 266 | | Hard |
| Level 267 | | Considerably Hard |
| Level 268 | | Easy |
| Level 269 | | Considerably Easy |
| Level 270 | | Hard |
| Level 271 | | Considerably Easy |
| Level 272 | | Medium |
| Level 273 | | Hard |
| Level 274 | | Considerably Hard |
| Level 275 | | Very Hard |