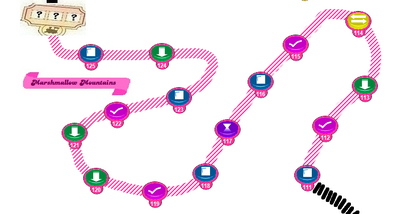 Marshmallow Mountains is the ninth episode in Maalit72's Candy Crush Saga ROBT.
The champion title of this episode is currently unknown.
Story
Before Episode
Carmel finds a fox that stuck under a stone. The fox was screaming for help. Carmel says to the fox: "You need that I will try to get you out from the stone?". Then. the fox says: "Yes".
After Episode
Carmel uses a Wrapped Candy to blow up the stone. Then, the fox is released. The fox says to Carmel: "Thank You!". Then, Carmel says to the fox: "It's my pleasure".
New Things
Level 111: Two layered Icing
Levels
Easiest Level: Level 112
Hardest Level: Level 125
| Levels | Level Type | Level Difficulty |
| --- | --- | --- |
| Level 111 | | Easy |
| Level 112 | | Very Easy |
| Level 113 | | Considerably Easy |
| Level 114 | | Medium |
| Level 115 | | Considerably Easy |
| Level 116 | | Considerably Hard |
| Level 117 | | Easy |
| Level 118 | | Hard |
| Level 119 | | Hard |
| Level 120 | | Considerably Hard |
| Level 121 | | Easy |
| Level 122 | | Considerably Hard |
| Level 123 | | Hard |
| Level 124 | | Easy |
| Level 125 | | Very Hard |