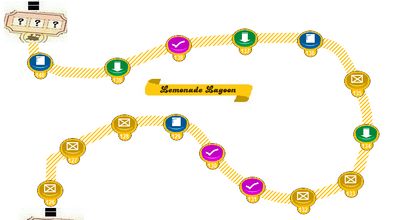 Lemonade Lagoon is the tenth episode in Maalit72's Candy Crush Saga ROBT.
The champion title of this episode is currently unknown.
Story
Before Episode
Carmel finds a yellow fish that located at a bottom of an empty lake. Carmel comes to the fish and then he asks the fish: "Anything ok?". The fish says to Carmel: "I need that the lagoon will be full again with lemonade juice that I will continue to be alive".
After Episode
Carmel puts a lot of Yellow Lemon Drop candies and then he uses hot water to melt the candies. Then, the laggon is full again. The yellow fish says to Cermel: "Thank You! You saved my life".
New Things
Level 126: Blocker Levels.
Level 128: Stripped Candy In A Wrapper Booster.
Levels
Easiest Level: Level 126
Hardest Level: Level 138
| Levels | Level Type | Level Difficulty |
| --- | --- | --- |
| Level 126 | | Very Easy |
| Level 127 | | Easy |
| Level 128 | | Medium |
| Level 129 | | Hard |
| Level 130 | | Easy |
| Level 131 | | Considerably Hard |
| Level 132 | | Considerably Easy |
| Level 133 | | Considerably Hard |
| Level 134 | | Easy |
| Level 135 | | Medium |
| Level 136 | | Considerably Hard |
| Level 137 | | Medium |
| Level 138 | | Hard |
| Level 139 | | Considerably Hard |
| Level 140 | | Hard |