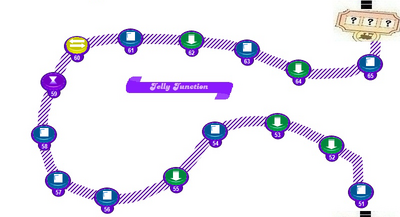 Jelly Junction is the fifth episode in Maalit72's Candy Crush Saga ROBT.
The champion title of this episode is currently unknown.
Story
Before Episode
Carmel saw a traffic jan because there is mud on the road. Carmel saks an angry driver: "You need that I will clean the mud for you?". The driver says: "Yes".
After Episode
Carmel uses a vaccum cleaner and the mud is gone. The driver says to Carmel: "Finally I can continue the road! Thank You!".
New Things
Level 51: Chocolate.
Level 52: Sweeth Teeth Booster.
Levels
Easiest Level: Level 59
Hardest Level: Level 65
| Levels | Level Type | Level Difficulty |
| --- | --- | --- |
| Level 51 | | Easy |
| Level 52 | | Considerably Easy |
| Level 53 | | Easy |
| Level 54 | | Considerably Hard |
| Level 55 | | Medium |
| Level 56 | | Easy |
| Level 57 | | Considerably Hard |
| Level 58 | | Considerably Easy |
| Level 59 | | Very Easy |
| Level 60 | | Easy |
| Level 61 | | Easy |
| Level 62 | | Considerably Hard |
| Level 63 | | Medium |
| Level 64 | | Very Easy |
| Level 65 | | Hard |