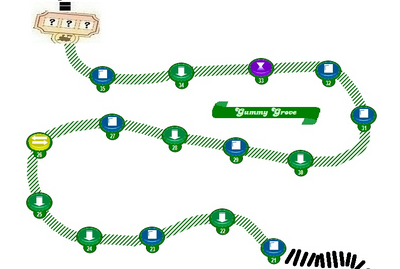 Gummy Grove is the third episode in
Maalit72's Candy Crush Saga ROBT
.
The champion title of this episode is currently unknown.
Story
Before Episode
Carmel finds a cat that stuck inside a bush. Carmel asks the cat: "You need help?". Then the cat says: "I'm stuck inside a bush and I need that you will help me to go out".
After Episode
Carmel uses a stripped candy to cut a part of the bush. Then the cat goes out and then he says to Carmel: "Thank You!".
New Things
Level 21: Regular Icing.
Level 33: Extra Time Booster.
Level 35: Striped and Wrapped booster.
Levels
Easiest Level: Level 33
Hardest Level: Level 32
| Levels | Level Type | Level Difficulty |
| --- | --- | --- |
| Level 21 | | Very Easy |
| Level 22 | | Easy |
| Level 23 | | Considerably Easy |
| Level 24 | | Very Easy |
| Level 25 | | Medium |
| Level 26 | | Very Easy |
| Level 27 | | Considerably Easy |
| Level 28 | | Very Easy |
| Level 29 | | Easy |
| Level 30 | | Considerably Easy |
| Level 31 | | Easy |
| Level 32 | | Medium |
| Level 33 | | Very Easy |
| Level 34 | | Considerably Easy |
| Level 35 | | Considerably Easy |