Grape Grotto is the fifth world of
Food Fight
.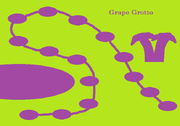 Story
Before: A pink dolphin named Minter is upset because she has no tail.
After: The apple makes a tail out of fruits and attaches in to Minter.
Levels
Grape Grotto contains levels 56 to 70.
Trophy
Delicious Diver
Color
Purple
Ad blocker interference detected!
Wikia is a free-to-use site that makes money from advertising. We have a modified experience for viewers using ad blockers

Wikia is not accessible if you've made further modifications. Remove the custom ad blocker rule(s) and the page will load as expected.