Episode
1
World
World 1
Levels
1-10
Character
Unknown
New features
Ingredients levels (Hazelnuts and Cherries) Timed levels (Extra time candies)
Difficulty
Easy
Released
Unknown

Quest progression

Previous
Next
Candy Street
Custard Clubhouse
Filling Factory is the 2nd episode in Candy Crush Flock and is the second episode of World 1. The champion title for this is Machine Mechanic.
Story
Before episode:
The machine gone wrong in which the worker is using for making fillings in pastries.
After episode:
Tiffi screwed the bolt more tightly using her wrench. The machine greatly worked, and as a reward, a worker gave Tiffi a choco-filled pastry.
New Things
Ingredient and Timed-type levels are introduced.
Levels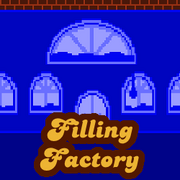 Filling Factory contains levels 11-20.
Easiest level:
Hardest level:
Gallery
Candy Crush Flock Episodes
Reality

•

•

•

•

•

•

•

•

•

•

•

•

•

•

•

•

•

•

•

•

•

•

•

•

•

•

•

•

•

•

•

•

•

•

•

•

•

•
•

•

•

•

•

•

•

•

•

•

•

•

•
•

•

•

•

•

•

•

•

•

•

•

•

•

•

•

•

•

•

•

•

•

•

•

•

•

•

•
•

•

•

•

•

•

•
•

•

•

•

•