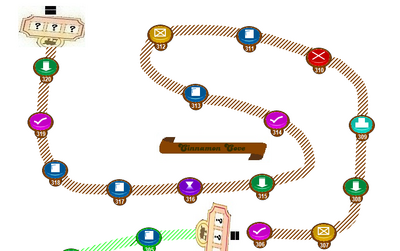 Cinnamon Cove is the twenty second episode in Maalit72's Candy Crush Saga ROBT.
The champion title of this episode is currently unknown.
Story
Before Episode
Carmel fins a confused turtle on the beach. Carmel asks the turtle: "What the problem?". The turtle says to Carmel: "The waves are too high".
After Episode
Carmel puts some heavy pieces of Jelly to block the waves. Then, the turtle is happy and he says to Carmel: "Now I can go to the water. Thanks!".
New Things
Level 306: Chameleon Candies.
Levels
Easiest Level: Level 306
Hardest Level: Level 310
| Levels | Level Type | Level Difficulty |
| --- | --- | --- |
| Level 306 | | Easy |
| Level 307 | | Considerably Easy |
| Level 308 | | Considerably Easy |
| Level 309 | | Medium |
| Level 310 | | Very Hard |
| Level 311 | | Hard |
| Level 312 | | Hard |
| Level 313 | | Easy |
| Level 314 | | Medium |
| Level 315 | | Hard |
| Level 316 | | Considerably Hard |
| Level 317 | | Hard |
| Level 318 | | Considerably Easy |
| Level 319 | | Hard |
| Level 320 | | Easy |