Chilly Peppers is the sixth episode of
Food Fight
.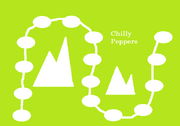 Story
Before: A pepper is upset because a polar bear is coming to eat him.
After: The apple throws fish into the water and the polar bear chases them.
Levels
Chilly Peppers contains levels 71 to 85.
Trophy
Polar Pepper
Color
White
Ad blocker interference detected!
Wikia is a free-to-use site that makes money from advertising. We have a modified experience for viewers using ad blockers

Wikia is not accessible if you've made further modifications. Remove the custom ad blocker rule(s) and the page will load as expected.