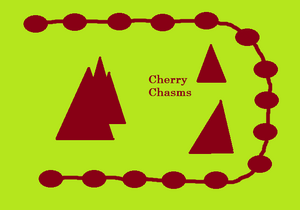 Cherry Chasms is the third episode of
Food Fight
. It contains levels 26 to 40. It is the third episode of
Fruity Fields
.
Story
Before: Two cherries in a mine car are upset because there is gelatin blocking the track.
After: Apple throws a cherry bomb at the gelatin, clearing the track.
Levels
Cherry Chasms contains levels 26 to 40.
26: Gelatin
27: Points
28: Ice Cream
29: Gelatin
30: Gelatin
31: Gelatin
32: Gelatin
33: Gelatin
34: Timer
35: Ice Cream
36: Gelatin
37: Gelatin
38: Ice Cream
39: Gelatin
40: Gelatin
Trophy
Melon Miner
New Things
Rock Candy: Chocolate
2-Layer Carrots: Double Icings
2-Layer Gelatin: Double Jellies
Color
Brown
Ad blocker interference detected!
Wikia is a free-to-use site that makes money from advertising. We have a modified experience for viewers using ad blockers

Wikia is not accessible if you've made further modifications. Remove the custom ad blocker rule(s) and the page will load as expected.