Cherry Canyon 
is the 15th episode of Courtemanche437's Candy Crush Saga. It contains Levels 211 - 225 and is the final episode in World 3. It is preceeded by 
Wafer Wonderland
 and is succeeded by 
Popcorn Plains
.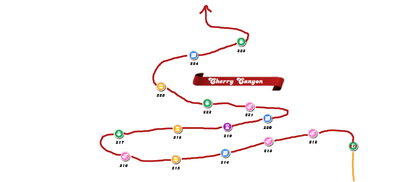 Story
Before Episode
Tiffi sees the Cherry Baronnes in a wagon that is being pulled towards the edge of the cliff. Remembering her wrongdoings in the real Candy Crush Saga, Tiffi contemplates if she is actually going to save the Cherry Baroness.
After Episode
Tiffi decides to rescue the Cherry Baroness out of her good nature and belief that anyone can be forgiven, regardless of their past actions.
New Things
Sugar Chests and Sugar Keys are introduced at Level 211.   
Levels
| | | | | | | |
| --- | --- | --- | --- | --- | --- | --- |
| Difficulty | Level | Type | Moves | Target score | Candy Colors | Goal |
| | 211 | | 35 | 55,000 | 5 | : 5 |
| | 212 | | 45 | 65,000 | 4 | : 50 |
| | 213 | | 10 | 5,000 | 3 | : 10   : 10 |
| | 214 | | 30 | 170,000 | 6 | : 81 |
| | 215 | | 43 | 30,000 | 6 | : 30,000 pts |
| | 216 | | 60 | 360,000 | 5 |  : 120  : 45 |
| | 217 | | 20 | 200,000 | 3 | : 9   : 9 |
| | 218 | | 55 | 65,000 | 5 | : 65,000 pts |
| | 219 | | Infinite | 35,000 | 6 | 35,000 points in 1 minute and 30 seconds |
| | 220 | | 44 | 135,000 | 4 | : 66 |
| | 221 | | 75 | 70,000 | 5 | : 7   : 250 |
| | 222 | | 50 | 45,000 | 5 | : 3 |
| | 223 | | 37 | 45,000 | 6 | : 45,000 pts |
| | 224 | | 45 | 60,000 | 5 | : 24   : 12 |
| | 225 | | 8 | 10,000 | 4 | : 1 |
| Very Easy | Easy | Considerably Easy | Medium | Considerably Hard | Very Hard | Variable |
| --- | --- | --- | --- | --- | --- | --- |
| 5 | 1 | 2 | 3 | 2 | 1 | 1 |
Mean: 3
Difficulty: Medium
Easiest Level: Level 212
Hardest Level: Level 224