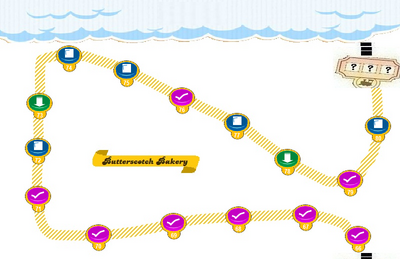 Butterscotch Bakery is the sixth episode in Maalit72's Candy Crush Saga ROBT.
The champion title of this episode is currently unknown.
Story
Before Episode
Carmel meets a sad chef that his bread machine is broken.
After Episode
Carmel uses 2 color bombs to make the machine work. The machine returnewd working and then the chef says to Cermel: "Thank you very much!".
New Things
Level 66: Candy Order levels.
Level 70: Lucky Candy Booster.
Level 72: Teleporters.
Levels
Easiest Level: Level 66
Hardest Level: Level 77
| Levels | Level Type | Level Difficulty |
| --- | --- | --- |
| Level 66 | | Very Easy |
| Level 67 | | Easy |
| Level 68 | | Medium |
| Level 69 | | Easy |
| Level 70 | | Considerably Hard |
| Level 71 | | Considerably Easy |
| Level 72 | | Easy |
| Level 73 | | Easy |
| Level 74 | | Medium |
| Level 75 | | Considerably Hard |
| Level 76 | | Hard |
| Level 77 | | Hard |
| Level 78 | | Medium |
| Level 79 | | Considerably Easy |
| Level 80 | | Considerably Hard |